A dog park is a facility set aside for dogs to exercise and play off-leash in a controlled environment under the supervision of their owners. Parks vary in accoutrements, although a typical dog park offers a 4′ to 6′ fence; separate, double-gated entry and exit points; adequate drainage; benches for humans; shade for hot days; parking close to the site; water; tools to pick up and dispose of animal waste in covered trash cans; and regular maintenance and cleaning of the grounds. Dog parks may also feature wheel-chair access, a pond for swimming; and a separate enclosure for small dogs.
In the U.S. the first official dog park opened in 1979 in Berkeley, California's Ohlone Park. Today, more than 600 city or county sanctioned off-leash areas in the U.S. exist,and more than 1,100 exist in the U.S. and Canada combined. In Australia, dog parks feature water taps rather than hydrants, garden benches, and mature trees for shade. Some (e.g. Pymble, New South Wales) have solar lampposts for after dark use. But there is no dog park here in Ashland, where I live with my pets.
There are many great reasons to have a local dog park:
It Promoting responsible dog ownership;
Socialization and exercise for dogs;
Bringing dogs and owners together in neutral territory, which can reduce fear and aggression in dogs;
Offering elderly and disabled citizens a place to exercise their companions; and
Accommodating dogs and their owners in a public open space (this has been shown to lead dog owners to higher levels of compliance with relevant laws).
But there even better reasons that just good citizenship and happy pets:
Money
In Minneapolis, Minnesota there are seven designated off-leash parks available; a special permit is needed to use the parks at an annual cost of $35 for the first dog and $25 per dog after.  To be able to use the Minneapolis dog parks the dog also must have a city pet license ($30/$50 year).  Any pet own failing to get a city license is fined $100.All pets in Minneapolis have to have a city license (not just dogs). Cats, rabbits and ferrets are also required to be licensed in Minneapolis; the fee for rabbit and ferret licenses are $25.00,  $15.00 for altered rabbits and ferrets, neutered cats licenses are $30 and unsterilized cats licenses are $50. To use the dog park the dog must pay the city pet license and off-leash permit which with could add up to $60 year per dog.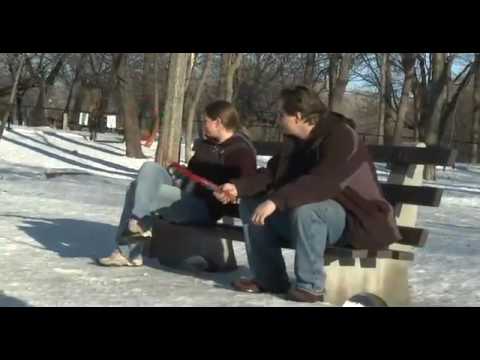 Real Statistics
40% of American households own at least one dog,

of which 67% own just one dog,
25% two dogs and
nearly 9% more than two dogs.
If I do the math with Ashland, WI (2010 population 8,064)
3,225 households own at least one dog,

of which 2,160 own just one dog,
806 two dogs and nearly
290 more than two dogs.
Which means if there is a dog park in Ashland that dogs need an annual city and off-leash permit for a total coast of $50/year it could be a city annual income of at least $150,000.
Math Time: [3000 possible permits * 50/year = $150000].
Create Jobs
Now that Ashland, WI has the potential to make money there are ways to make sure this stays on the books in red.
Make sure all forms are available online.
Hire one person part-time (28 hours a week) to manage this at the city office, manage fines and even public verifications.
Hire three part-time (28 hours) to manage the dog park.

The dog park is open from dawn till dusk, just like most parks and having a person managing the dog park which includes grooming, ensure all permits and license have been purchased and have the means to charge a $5 visitor fee.
Math Time: Cost for four part-time positions at an average $10/hour is around $58,240 year [((4 position * 28 hours per week) * $10/hour) * 52 weeks in the year = $58,240].
Poo-Power
Good dog owners might think they're doing their part by using biodegradable baggies to pick up after their pooches. But after the feces go in the trash can and to a landfill, they release methane gas, a significant contributor to the greenhouse effect.
A dog park in Cambridge, Massachusetts, has a solution: Add in a methane digester, and let your dog waste power the streetlights, tea cart and popcorn machine. Replace trash cans with a public methane digester, and it can be to turn waste into fuel. "As long as people own pets in the city and throw away dog waste, the production of energy will be continuous and unlimited," the project's Web site says.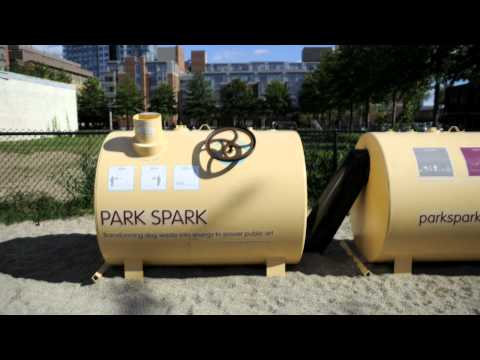 The project involves three basic steps: Throw your dog's waste into the digester, where anaerobic bacteria are ready to break it down. Stir the mixture to help methane rise to the top, and burn the methane to generate light or electricity. After picking up their dogs' waste in biodegradable bags, visitors to the Park Spark digester can feed the waste through an above-ground tube, and stir it with a hand crank. The bacteria container is buried underground and the methane is piped through the ground to the streetlamp, which burns with an eternal flame. Having city lights powered by the methane digester saves the city money in park utilities. (http://parksparkproject.com/)
If you build it, they will come
Everyone knows that pets are a big deal in America and that a large number of people like to travel with their furry companions. When we travel with our dogs the routes we take are determined on the availability of dog parks, pet-friendly options and we are not the only ones. According to the Travel Industry Association of America an estimated 29.1 million Americans say they have traveled with a pet in the past three years and dogs are the most popular travel companions.
Why not takes the steps towards making your city pet-friendly with a large, fun dog park?
Locations
Here are my suggestions for locations for  dog parks in Ashland, WI:
Hodgkins Park (south of baseball fields)
It is large enough
Doesn't get used
Parking
Near the walking path
Trees
Running Room
Away from most residential areas
Plenty of space to make two areas for small and large dogs
Kreher Park (south of sewer plant)
It is large enough
Doesn't get used
Parking
Near the walking path
Water Access
Running Room
Prentice Park (anywhere)
Ellis & 6th Street
Parking
Near the walking path
Running Room
Doesn't get used
Use the two lots one for small & the other for larger dogs.
Consequences For Not Having A Dog Park
It is called underground dog parks.  People will take their dogs anywhere, even travel outside the city limits, and let them run free — which means no city income.
But there is a need . . . and there is a website for Ashland, WI dog parks (ashlanddogpark.org) but it looks dead. So why don't we revive this going and get Ashland, WI a dog park.  Unless Washburn, WI creates a dog park first.